BOOKS INTRODUCTION
Calories are only half of the weight-loss equation … welcome to the other half. In his private practice to patients and best-selling books, Dr. Stephen Gullo lets you in on his unique weight-loss program that has a success rate that is many times higher than the national average. His approach replaces willpower with strategy and deprivation dining with great-tasting gourmet fare!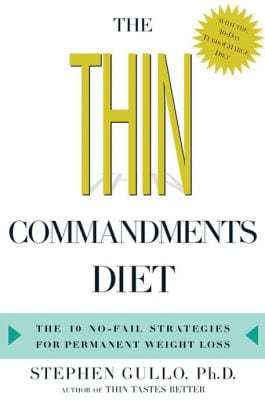 THE THIN COMMANDMENTS: The 10 No-Fail Strategies for Permanent Weight Loss by
Stephen Gullo
The bestselling author of Thin Tastes Better, Dr. Stephen Gullo lets you in on his unique program that has a success rate almost 15 times higher than the national average and has helped patients lose more than 100 pounds and maintain the weight loss for more than 5 years.
Dr. Gullo's program, incorporating his more than 3 decades of clinical experience, features The Ten Thin Commandments that govern all eating habits and his easy-to-follow "ABC Diet" plan.
In Part One, Dr. Gullo shares his Thin Commandments, including:
Think historically, not just calorically-identify trigger foods that can undermine weight loss.
Slips should teach you, not defeat you-uncover the "24-hour secret" and never gain weight from bingeing again.
Success is about substitution, not denial-discover the 10 most common diet-busting foods and their satisfying substitutes.
In Part Two, Dr. Gullo outlines his simple ABC Diet plan. He takes the guesswork out of dieting and offers a three-step program, which begins with a 10-day turbocharge plan that helps melt away pounds quickly and easily. The ABC Diet is complete with menu plans and shopping lists.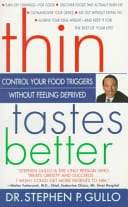 THIN TASTES BETTER by
Stephen Gullo
"Dr. Gullo, one of America's most well-known diet gurus, shares his new and ground-breaking model for weight control and his dramatically effective Anti-Deprivation Diet".
"I'm with you until thin do us part" claims Dr. Stephen Gullo, the diet guru who claims to have lambasted 250,000 pounds from the 15,000 clients he has treated in the last over the decades. His retro diet mixes the pasta and bread that have been the darlings of today's low-fat generation, and urges people to "think white and green! Fish and vegetables".